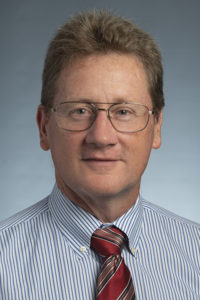 NEW ALBANY, Ind. — After four years as president of Baptist Health Floyd – and decades of service to his patients – Daniel Eichenberger, MD, is making a change in early November. His new career will combine his experience as a healthcare administrator – and as a practicing physician – to guide other hospitals and systems as a healthcare consultant.
After wrapping up his leadership role at Baptist Health Floyd, the 56-year-old plans to continue practicing medicine through the end of the year.
An interim hospital leader will be named shortly, and the search for a successor will begin, according to Patrick Falvey, chief operating officer for Baptist Health.
"We are grateful not only for Dr. Eichenberger's vision, and but also for his longstanding dedication to the hospital and its patients," said Falvey.
During Dr. Eichenberger's leadership, Floyd Memorial Hospital and Health Services became part of Baptist Health on Oct. 1, 2016, renaming the hospital Baptist Health Floyd.
Dr. Eichenberger also led key initiatives for numerous IT system enhancements and integration at Baptist Health Floyd, including an electronic health record system designed to help patients better manage their health through an online patient portal. Other accolades and achievements for Baptist Health Floyd include recognition for excellence in nursing with the American Nurses Credentialing Center Pathway to Excellence designation.
"Dan Eichenberger was the right man at the right time to steer the hospital through its sale and successful transition to the Baptist Health family. That's because he's been a long-time champion for improved healthcare in our community, and a driving force behind the hospital's growth," said Jerrol Miles, Baptist Health Floyd board chairman. "It's difficult to imagine Floyd County's healthcare community without him."
Dr. Eichenberger started his career at Floyd Memorial Hospital in 1978 in the Environmental Services department. After working his way through high school and college at Floyd Memorial Hospital and Health Services, he held various roles throughout the organization. He was named president and CEO of the hospital in October 2015.
In addition, Dr. Eichenberger is a board certified adult internal medicine and pediatrics specialist, and the original founder of Physicians Associates of Floyds Knobs, now known as Baptist Health Medical Group Family Medicine.