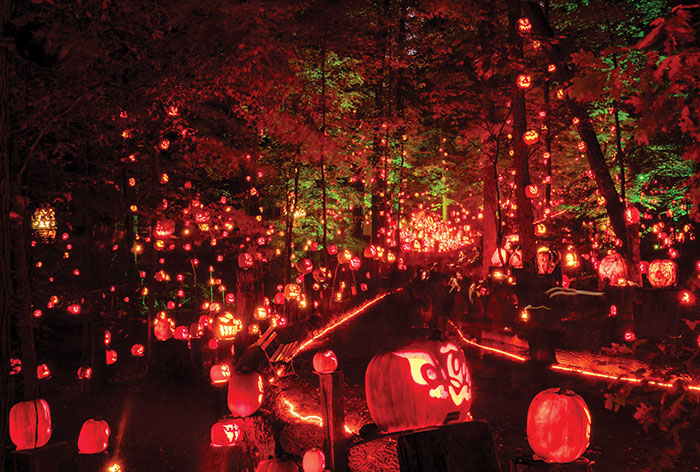 It's October and once again, the time of hauntings by "ghoulies and ghosties, long-leggedy beasties and things that go bump in the night…."
The line from an old Cornish prayer describes the Halloween season perfectly. And opportunities abound across the commonwealth for celebrating this creepy, convivial holiday.
Haunted Waveland
Six miles south of downtown Lexington, Waveland State Historic Site loves the spooky season. Also known as the Joseph Bryan estate, this 10-acre bluegrass farm features a classic Greek Revival brick antebellum mansion completed in 1848 by a grandnephew of Daniel Boone, servant's quarters, icehouse, smokehouse and barn. Named for the way its fields of grain and hemp waved in the wind, Waveland, once home to a premier Thoroughbred and Standardbred farm, depicts 1840s life on a Kentucky farm…one where a number of events highlight its active spirits this time of year.
Is Waveland haunted? Come find out … if you dare! Meet at the cabin at 8 p.m. on Friday, Oct. 25, for a Ghost Hunt at Waveland. You'll explore with the Lexington Paranormal Research Society (LPRS) for an investigation that will last until midnight.
On Wednesday, Oct. 30, at 6:30 p.m., David Underwood, president of the LPRS will tell you about Waveland's resident ghost(s) over hauntingly tasty finger food at an Evening Ghost Tea. Afterwards, he'll send shivers up your spine with spooky stories as he leads you through the darkened mansion by candlelight. Feel free to wear black clothing or costumes.
Those Victorians were enamored with death. You can find out about their strange life and death customs at Waveland's presentation of "Peculiar, Curious, Bizarre and Morbid Victorian Customs" at 7 p.m. on Fridays, Oct. 4, 11 and 18, and on Saturday, Oct. 26. Strolling the mansion's rooms decorated in full mourning, you'll hear about Victorian mourning customs, the history of ghost hunting, and bee funerals. Among other unusual items, you'll see a death mask, hair jewelry (really!), and a Fisk casket, a metallic burial case only wealthy families could afford to help deter grave robbers.
Please note: The above Waveland events are not recommended for children. Adults only, and reservations are required. All are fundraisers for the Friends of Waveland.
---
IT'S FREE | Sign up for The Lane Report email business newsletter. Receive breaking Kentucky business news and updates daily. Click here to sign up
---
Artsy Pumpkins in the Woods
Imagine walking through the trees in Louisville's Iroquois Park at night amid 5,000 hand-carved, lit pumpkins, some as high as 80 feet up in the branches. Turns out you don't have to imagine this amazing spectacle: Just show up for the 7th annual Jack-O-Lantern Spectacular, purchase a ticket, and prepare to be amazed by this illuminated night art show. As you amble along the 1/3-mile woodland path, 10,000 eyes in the dark woods will be gazing back at you.
Docents along the way can answer any questions.
Carved by a number of artists, these jack-o-lanterns star in a nighttime happening that's newly themed each year with accompanying music, and is family-friendly, from grandma to little kiddos. The display runs daily from Oct. 8 through Nov. 3, and benefits the Louisville Parks Foundation, a nonprofit that inspires donors to invest in Louisville's 120-plus public parks and recreational facilities – including, of course, Frederick Law Olmstead-designed Iroquois – for use by present and future generations. See the website for show times.
Mazes, Pumpkins and a Zip Track…Oh My!
Not so much scary as it is pure fun, Devine's Corn Maze and Pumpkin Patch in Harrodsburg has been delighting families and kids of every age for going on 12 years now. Located on the historic James McAfee farm (which claims the oldest stone home east of the Mississippi River), the attraction is run and maintained by the Devine family, who've farmed the land here for 30 years, and their friends. On weekends through Nov. 3, three mazes fill 10 acres: a Kiddie Maze, which smaller children can negotiate all by themselves; the First Timer, if it's your first "rodeo;" and the more difficult featured maze. Different every year, the latter for 2019 is the Kentucky Farm Bureau logo, to celebrate the organization's 100th birthday.
The attraction also offers an amazing array of autumn activities. Among those are a petting zoo, trike trek, tire mountain, giant slide, human hamster wheel, zip track, straw crawl, duck races, tube swings, wagon rides, barnyard ball, pumpkin picking, and nightly bonfire with free marshmallow roasting. The Devines admit they strive to get bigger and better every year. If you run out of things to do here, it's your own fault!
Groups of 50 or more are welcome, and receive a discount.
Boos at Buffalo Trace
Built on the banks of the Kentucky River in Frankfort in 1792, Buffalo Trace Distillery (BTD) commemorates in its name the mighty buffalo that trod the pioneer-era trail to the spot the distillery began, and the tough, independent spirit of those early settlers. Once again, the Sazerac Co., owner of BTD, celebrates Halloween with Disturbia at the Distillery, an evening of dinner, drams and drama.
An always-popular ghost tour is followed by supper and spirits pairings (the booze – not the boos – kind!). While you chow down on tasty victuals, you'll be treated to a murder mystery, during which you'll try to figure out "whodunnit." Between acts, you can taste the distillery's award-winning spirits. There's even an optional costume contest with prizes.
Ghosts Afloat
Deep in the mountains of Eastern Kentucky, Jenny Wiley State Resort Park in Prestonsburg is known for its terrific summertime musical theater performances; seasonal elk tours; 1,100-acre lake with great fishing; and gorgeous scenery. But each year on the last two weekends in October, this popular destination goes all scary on the water with a haunted boat ride. Snacks are available to calm your nerves before the 30-to-45-minute trip. Once the nine-passenger craft launches, the driver steers his unwitting guests to various parts of the lake, then guides them onshore to a number of scary encounters.
Just FYI, children under 18 must be accompanied by a parent.
Go A-Ghouling
• Devine's Corn Maze & Pumpkin Patch, Harrodsburg, devinescornmaze.com (859) 613-6900
• Disturbia at the Distillery Buffalo Trace Distillery, Frankfort, buffalotracedistillery.com (800) 654-8471
• Jack-O-Lantern Spectacular, Louisville, jackolanternlouisville.com (502) 368-5865
• Jenny Wiley State Resort Park, Prestonsburg, parks.ky.gov/parks/resortparks/jenny-wiley (606) 889-1790
• Waveland State Historic Site, Lexington, parks.ky.gov/parks/historicsites/waveland (859) 272-3611
---
Katherine Tandy Brown is a correspondent for The Lane Report. She can be reached at [email protected].