Editor's note: Greater Louisville Inc., the Metro Chamber of Commerce, announced Dec. 16 that Sarah Davasher-Wisdom, GLI chief operating officer and chief of staff, has been nominated by the executive committee to succeed President and CEO Kent Oyler, subject to voting board approval at the Annual Meeting on Jan. 23, 2020.
---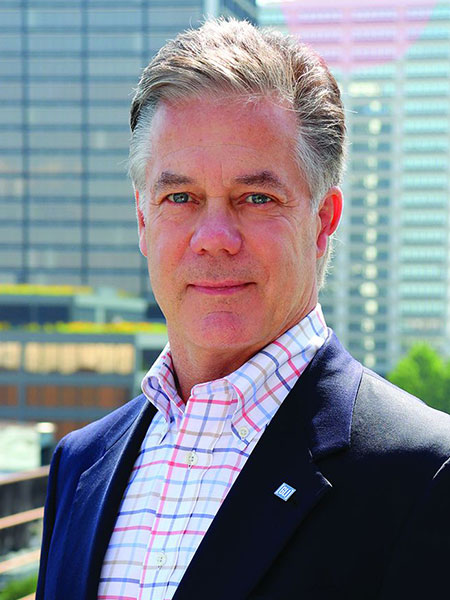 Mark Green: You brought personal entrepreneurial experience to your current job as CEO of Greater Louisville Inc. (GLI), the metro chamber of commerce. How has that impacted the way you have taken on the challenges of heading GLI?
Kent Oyler: I think like an entrepreneur, which tends to be: How can I take this particular problem, take a different approach and come up with a solution? I probably brought a little more risk-taking to the organization than it traditionally had. I'd like to believe that there's creativity involved. I tend to generate a lot of ideas, which I'm told is a good thing – you have to generate a lot of ideas because most of them are bad ideas! Randomly, some of them will be good enough. And I was a CFO before I launched my entrepreneurial life; it brought a financial discipline and awareness. Being an entrepreneur, you wear every hat in an organization, especially small organizations, and we're not big. I've had companies from two or three people to 600 people. Being able to bring the multidisciplinary approach to the organization was helpful.
MG: What business categories did you work in previously?
KO: I started in banking with what's now PNC and transferred into a heavy manufacturing organization. Jumped into and started a railroad company that did well; started an internet company that did well and got bigger; a couple of other internet companies. Worked in consumer research, a company we started. Another manufacturing company in packaging. It's interesting to learn a new industry, but I would recommend that new entrepreneurs stick with your industry. Every job has a three-year learning curve.
MG: New technology has always come along to disrupt the way business is conducted: electricity or cars or flight, whatever. Today "disruption" as a result of the internet and digitalization is the watchword for business. What has been the most impactful change to GLI's operations in your tenure?
KO: It's leadership. There's been a huge change in the model of (civic) leadership in this city and across the country. GLI themes its years, and next year will be about leadership. The whole model is already changed and continues to shift.
You're going from this model we've had here for years, which worked for the iconic leader – David Jones Sr. (the late founder of Humana), who's the best example we have here. [He was] a leader of leaders kind of person who could say, "I've looked at it, this is what we're going to do. Let's get in line."
The CEOs, the "towers," are typically now folks who have demands on them as CEO that don't allow them to spend much time on civic stuff. The (leadership) model is moving towards one that involves needing to have more leaders coming to the table.
The big leaders before used to have a constituency, usually meaning a company with lots of people. They assigned people to specific tasks and commanded their corporate resources. And they had the ability to write checks; not that they funded it all, but they would seed things and get them moving. And the third thing, they have a love of city-building; they're driven to make the city better. Mr. Jones was a perfect example of that. He had all three of those, and was very effective at it. Plus his personality was driving.
Today you find people who have two of the three, but it's hard to find all three. You have to gather the folks with two of those things and try to get them all singing in harmony – same handbook, same page, in harmony. If you do that, you can get things done. It's harder to do than the benevolent leader (approach). It is messier. It's also far more democratic, and some might say it's better. We're evolving in that direction. It's passion-driven.
And there are examples that are more technology-driven, like MeToo. There's no headquarters for MeToo, there's no president of the MeToo movement. It just is, but it's very powerful.
MG: The head of GLI wears several hats depending on the day and hour. Your website cites main activity areas of economic development, careers and workforce, basic chamber of commerce, and advocacy. Can you give us brief descriptions of each?
KO: Those are the four things we do actually. One error I made when I first came was to have staff get everything we do and put it in a word cloud. It had maybe 50 different words. We put that on the cover of the piece I used to explain what we do, and all it did was confuse people – because when you do everything, you do nothing. I tell people today we do four things.
We're the chamber of commerce, which is about connections. It's about you selling more stuff and us celebrating your business and making it easier for you to do business. We do advocacy, which is being the voice of business, trying to advocate for public policy for a better business climate and economic development at federal, state and local levels. The hot button now is around workforce talent, so we do talent attraction and workforce issues.
We do economic development in terms of business attraction and creation. We're marketing the region in various ways to attract businesses to bring their operations here. We did a site visit last week with a company we entertained and showed all over the region. And entrepreneurship is a piece of that too. That's the business creation side.
MG: With that wide portfolio, how can you as an organization and as an individual go so many directions? How do you ride herd over that?
KO: We have a good staff. Our COO and chief of staff, Sarah Davasher-Wisdom, manages a lot of the internal wrangling. Most of the staff reports through her and she's a very organized person. Between organic turnover and organizational change, somewhere around 90-95% of the staff is new since I came. It's not that we got rid of everybody. People leave and things happen, turnover-wise. Some of it's been good, some of it's harder. It's taken 5 years to arrive at the organization we have today that was capable of the Chamber of the Year win.
I have a full-time scheduling person whose job is almost all setting appointments, moving them around and dealing with my calendar. It's a relationship business; you have to get in and get meetings with people. The CEO meeting (I have) tomorrow has been rescheduled three or four times; busy people are next to impossible to meet. If I was trying to do that myself it would take a lot of time. She also handles GLI board meetings.
There are several hundred meetings a year – not just the standing meetings, but those where I'll say, I need to meet with this CEO, or that official, or pull a group together about this. We've got everywhere from small groups to one next week where we've put 111 people on a committee.
We used to be answering phones, but nobody calls on the phone anymore. It's actually rare. I get, on average, 30 or 40 LinkedIn connection requests a day. A lot of people want to reach out because (I'm) the face of the chamber.
MG: What public policy changes are being sought by GLI – locally, in Frankfort and in Washington?
KO: Generally speaking, it's business-friendly things that make it easier and better to do business. We dislike, generally, regulation. We don't like taxes, particularly in certain areas.
The pension system is something we've spent a lot of time on, as has the Kentucky Chamber, because it is such a huge problem. And we spend time advocating for infrastructure; we were successful last session with changing up and helping the road plan move ahead. It's also direct flights. It's broadband. Education is infrastructure. And local control (is an advocacy priority). Whether it's being able to do the LIFT (local investments for transformation) tax or control our own fate, Louisville is a different environment than much of the rest of the state. The (rest of the state) needs to be able to control their fate, and we'd like to have more control over our own fate. That's a state issue we spend a lot of time working on.
Locally, it's about development. The big push is development, development, quit resisting development. I'll say TopGolf (a proposed complex at Oxmoor Center) is our current best example of that, but One Park (a proposed $250 million mixed-use development at Grinstead Drive and Lexington Road) is coming to a vote soon. We want to be much more pro-development.
MG: Workforce development and talent attraction to provide an adequate supply of appropriately skilled workers for business is at the top of every community's agenda. What are GLI's workforce development strategies?
KO: The biggest one we're engaged with would be the Academies of Louisville at Jefferson County Public Schools. We have a leadership position in partnership with JCPS Kentucky in the works to expand and grow the career-themed academies in public high schools. That's been very successful: 154 partnerships (between businesses and schools) have been forged.
Adjacent to that is talent attraction and retention. Our workforce has actually been shrinking somewhat. The key 24- to 54-year-old range is contracting. We're having fewer kids, and kids take a long time to mature into workers. But we have a lot of retirees exiting the workforce. There's a crunch.
We've spent a lot of time around barriers to workforce. What do you do for people who could work but for various reasons don't? So, transportation, and we've done a lot of work on public policy around expungement and bail reform. If you're in jail because you don't have cash to pay bail on a nonviolent crime, it's hard to hold a job. We want to get your record expunged so you can get a commercial driver's license.
MG: How important to the Louisville business community's success is recruitment of new residents?
KO: It's one of the most critical priorities and challenges of this metro area. Our population growth has been anemic. It's growing much, much slower, to even flat. It's declined some years slightly. You can't grow your economy with the exact same number of people. We need additional people coming in to fill the positions. We have 27,000 open jobs. If all the people to fill those jobs lived here already, they would find their way to those jobs, but that's not the case. We need to have people moving into the city, whether it's international or in-state or out-of-state. You can't be a vibrant city if you're not growing. Do you have to grow as fast as Nashville? No. But you can't be flat.
MG: What is being done now to recruit people?
KO: Our primary initiative right now is Live in Lou, a talent attraction brand we've built with the help of a lot of grants. It's a toolbox for employers to sell the city. What we've found is that they can sell their company, but then Louisville's not well known if you're living in Chicago and don't have a connection here. We help sell the city. There are websites, a bunch of digital media and marketing outbound to hit people when they might be thinking about jobs here.
There are some talent retention things. We do sponsorships of events. They just did the Louisville Trifesta 2019 by (promoter) Danny Wimmer Presents of Hometown Rising, Bourbon & Beyond, and Louder than Life, three big country and rock music concerts. And we did the Live in Lou XC Cross-Country Classic, which books in thousands of college and high school students who were in town. We worked the IRONMAN Louisville. It was a great demographic to try for talent attraction. We use digital media, geofencing and things to try to reach those folks. We're trying to use the assets we have to target people while they're here and sell them on the city.
MG: In targeting talent attraction, is GLI projecting out to certain regions and certain countries?
KO: We go out about 500 miles plus New York City. We had a big IQS Research project done and found that that's about our reach. You get much farther than that, and it's just too far (for talent attraction). [But] if I'm in Chicago (and move to Louisville) I can still get home to my family; I can drive home in half a day.
MG: GLI works on economic development regionally, which can get really complicated. Please describe GLI's approach. How many counties does it work with, and how does it get activated and managed?
KO: We count a 15-county region: five in Indiana, 10 in Kentucky. We basically surround Jefferson County. About half the population lives in Jefferson and half in the other counties. GLI has an economic development partnership that includes officials from all the counties that have (ED) staff.
Our role is primarily an overlay for business-attraction purposes, marketing the region. For example, we have organized a familiarization tour and brought 10 economic development site selectors to town; this is the second or third time. We squire them all over, meet the different economic development partners, show them a good time, show them the region.
MG: Louisville has significant new transportation infrastructure in the form of the two Ohio River bridges and a streamlined "Spaghetti Junction." Are they impacting productivity as hoped, and what physical infrastructure improvements is GLI advocating?
KO: My experience with the bridges is that it's a whole lot faster to get back and forth to Indiana and we don't have the bottlenecks I used to see. I would watch it back all the way up I-71, I-64 all day. People are spending less time stuck there, but now they're stuck elsewhere, so we've been working heavily on the Gene Snyder Freeway (I-265) and I-71 corridors. Those are an infrastructure traffic bottleneck. We're working on getting the state road funding formula to work for high-traffic roads; right now it's by number of miles of road versus miles traveled on the roads, which would make a lot more sense.
We spend a lot of time on direct flights. The Louisville-Los Angeles flight (that began April 2) was a victory this year, and we were involved with that and other direct flights with the airports. That's infrastructure. Education is quite honestly infrastructure. You've got to have it. And broadband. It was sad to see Google Fiber pull out (of Louisville), but it did stimulate competition and people like AT&T and Spectrum have stepped their game up. We have a lot of folks who are remote workers in town, and if you're a remote worker, broadband is very important. If you're stuck with service that is too slow or it's not reliable, it's hard to hold a job.
MG: GLI is the reigning national Association of Chamber of Commerce Executives (ACCE) Chamber of the Year in the top large category. It involved what your board chair called "a tremendous turnaround story since 2014." What were the keys?
KO: It's great to be national champion. To get there, we made some good staff changes early on, bringing people in like Sarah Davasher-Wisdom (COO and chief of staff). I also credit the Association of Chamber of Commerce Executives. There's a peer group of metro chamber CEOs there and I embraced that because I did not come in as an experienced chamber executive. I was a business guy. They were really helpful in saying, "This is what chambers are."
Another thing we did was go to the ACCE national meeting – where we won this year – and looked at those books. When you apply for Chamber of the Year you create an application binder full of all your best practices, your story, your sponsors. You can see what excellent is. We said, 'We want to be National Chamber of the Year.' We were a long way from that five years ago, but we set that as a North Star and kept working. The first couple years we weren't even eligible, then we applied and didn't get finalist, then we applied and got finalist and didn't win, applied again and got finalist and did win. We learned from the process a lot.
MG: What were some of the specific steps that you implemented?
KO: First, we rationalized our whole spending and financial house; we were losing money. We began to diversify our income streams. We were doing a lot of things, but I couldn't point to the one that we were really good at, so we chose policy. We didn't have a policy department in 2014. There was nobody there until we hired Sarah; she came in as the first public policy person.
So we set our mind to building a strong public policy apparatus. We started going back to Washington, D.C. on DC fly-ins; we hadn't been there forever.
We went through an entire re-missioning: Why do we exist? Lots of early work to re-envision the organization. We rebranded also. It was a soft rebrand; we didn't change the name of the organization, but all the graphics, the mission statement, all that other stuff changed out early on in 2014.
MG: What is GLI's budget and revenue model today, and how has it changed in recent years?
KO: It has changed significantly. Our budget hovers around $6 million. Since 2014, we've added several revenue streams that did not exist. We've added grants. We were not grant-writing our own purposes. We'd do a grant "in administrar" and be a fiscal agent. We wrote several grants, and it's now into the millions we've received that support our growth initiatives.
We launched the capital campaign and have raised $7 million so far on a $7.5 million goal.
We raised our prices. It's a tiered dues structure where for various levels of investments in a chamber you get certain benefits. We had had the same pricing structure for years. We didn't lose very many people even though we doubled the minimum.
A big item was launching the Humana Health Solutions plan. Having this health insurance product is very important to companies. We're saving them, on average, about 20% on their health insurance, so that's a very compelling reason to join. We have a fee associated with that.
And we have an entire committee dedicated to finding other alternative earned income sources. We have several more we'll work on rolling out next year.
MG: How much has social media replaced or changed the traditional networking services that chambers of commerce provide?
KO: It's supplemented but not replaced it. GLI has big presences on LinkedIn, Facebook, Twitter and Instagram. We have 1.5 full-time equivalent people keeping up with the social media. I don't do Facebook, but I do LinkedIn. We have a big presence on Instagram, which is a hot thing with the younger folks. We very much drive our Live in Lou campaign, which is our talent campaign, through social media. So social media's been a big supplement. We use it for lots of purposes. We push out messaging for members, we push out our own messaging. We reciprocate by liking their messages, retweeting them.
MG: But you don't see people's interest in chamber networking events falling away because of social media?
KO: No, I think they still want connections. They want the face-to-face.
MG: What issues do GLI members come to you seeking help with most often?
KO: One of them is the advocacy. It can be anywhere from local zoning or development to a big issue in Frankfort or Washington. The other is connections. We're very proactive about that, trying to connect you to you so you two can do business together.
MG: Why do members say that they join?
KO: They join for peer-level networking. We try to have events or opportunities for networking at all levels, from purely CEOs of big companies to the folks who are doing sales at street level. We try to have opportunities for them to peer-network, and then big events where they cross-network. We do events primarily to allow people the opportunity to network.
MG: Is the networking function and participation the primary value proposition for chambers, or is that changing?
KO: I think (networking and participation) is the primary value proposition. That and getting something done through the group, so they can make a difference. They believe they can come in, have a seat at the table and help drive the public agenda. That's why it's important to have a good agenda.
Our first and foremost value we have to provide is to help our members improve their businesses. Part of business is trading with each other, and that's the connections stuff. Part of business, though, is creating an environment where they can do business. That could be having a business-friendly environment politically or policy-wise.
MG: What are the major short- and longer-term goals on GLI's agenda currently?
KO: We have to deal with issues of organizing leadership better. We have fractures within the community, different silos that need to be addressed. We're in the process of writing a comprehensive strategic plan and hiring a company in Ohio to work with us and that's really advancing. We're currently going into the fifth year of a five-year plan in 2020, so we'll have a new set of priorities coming.
MG: In addition to Chamber of the Year, what recent accomplishment is GLI happiest about?
KO: We just won another award for the 2019 Year of Tech initiative. We're trying to bring awareness around the need for innovation in technology to the community. There's a lack of that. We're trying to start up a Louisville tech cluster. We just got the first draft of a huge report on the technology sector in our region that (finds) we have 1,900 companies – we thought it was 1,300. [So] we have a bigger tech sector than we thought. The economic impact is $33 billion. And that's the fastest-growing sector we have. It's not the biggest – health care and manufacturing are still bigger – but that's the fastest growing. And it's a lot bigger than we thought.
MG: The city and UofL have recently announced partnerships with Microsoft and IBM. Is that a reflection of the tech sector that we're just realizing is here?
KO: I think so. Both the IBM and Microsoft announcements, while they were totally independent of each other, are a reflection. We're not trying to be Silicon Valley, but every business is tech-enabled in one way or another. Given time and awareness and nurturing, we're trying to set up a robust tech network in town. There's lots of stuff going on in that sector.
MG: What is your top advice to businesses and public officials who want to improve the region's economy, income levels and wealth creation and quality of life?
KO: If I had one piece of advice, it would be "E Pluribus Unum" (Out of many, one). We have "many." One county can't go at it alone; it's not big enough. We need to pull together. The city of Louisville resides in a small, relatively poor state. But we've got to pull together. Otherwise you're fighting over "small ball" spoils. We shoot ourselves in the foot by behaving in that way, which we do more than we should. Let's be more forward-thinking looking at 2020, pull together and get a common vision. ■
---
Mark Green is executive editor of The Lane Report. He can be reached at [email protected]