$289 million project expected to be completed in 2018
LOUISVILLE, Ky. (Jan. 6, 2015) — Mayor Greg Fischer announced today that Omni Hotels & Resorts will build a 30+ floor multi-purpose building in downtown Louisville that includes a 600-room hotel topped by 225 luxury apartments. Located one block from the Kentucky International Convention Center, the Omni Louisville Hotel will be a four-diamond, luxury hotel.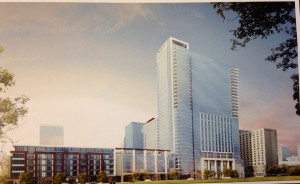 The $289 million project will be completed no later than March 31, 2018, Fischer said. The project is estimated to create 765 construction jobs—with 20 percent minority and 5 percent woman-owned business participation—and 320 permanent
It will be the third tallest building in the city, behind the National City Tower (40 stories) and The 400 W. Market (35 stories). The complex will include two restaurants, a lobby lounge, 70,000-s.f. of meeting space, a lobby art gallery, a rooftop cafe, spa and fitness center, swimming pool and grocery. The project will be sustainable, with LEED silver certification.
"The investment is transformational for downtown and another sign of the momentum in our city. We are thrilled to partner with the great team at Omni Hotels & Resorts, a nationally recognized luxury hotel brand and continue our strong partnership with The Cordish Companies," Fischer said. "Outside of the Ohio River Bridges Project, this will be the largest single investment occurring in Louisville."
Fischer said the project is a public-private partnership with Omni paying 52 percent of the development costs ($150 million) and the city and state providing 48 percent ($139 million), which includes a rebate of taxes generated by the project, $17 million for a parking garage to be constructed and owned by the Parking Authority of River City (PARC) and $17 million, the value of the land.
Omni's investment complements numerous other projects planned or underway downtown including six new hotels bringing an additional 1,500 rooms; over $50 million invested in bourbon tourism experiences; and the expansion of the Kentucky International Convention Center; as well as the $2 billion Ohio River Bridges Project.
Fischer announced that prevailing wage will be paid on the entire project with goals set for local and minority participation.
The Louisville Metro Council has been asked to consider and approve the following:
A general ordinance including the surplus of the property, a local participation agreement, and disposal of prior promissory note commitment with Fourth Street Live!
A bond authorization for the construction and a bond authorization for the PARC garage.
Upon approval, the next steps will include Omni designing the tower. The city will work with Omni on the final design and we look forward to receiving input from the local historic preservation and workforce communities regarding final design and construction.