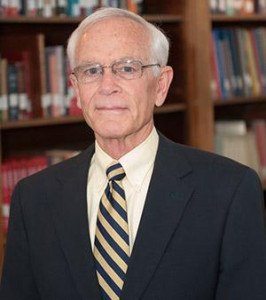 MURRAY, Ky. (April 13, 2018) — Murray State University recently named Dr. Tim Miller, president emeritus and professor emeritus of the University, one of the 2018 recipients of the Distinguished Alumni Award.
Murray State presents the Distinguished Alumni Award annually to alumni who have made meaningful contributions to their profession on a local, state and national level. Established in 1962, the award is the highest honor granted by the Murray State University Alumni Association. Its recipients include Pulitzer Prize winning journalists, renowned authors, research scientists, physicians and educators.
Miller grew up in Elizabethtown and transferred to Murray State during his sophomore year of college. Miller ultimately graduated from the University with a bachelor's degree in accounting in 1966 and received his Master of Business Administration in 1967. When he began attending the University, he recalled noticing the difference in Murray State from other universities, noting that he felt cared for and that everyone was a lot friendlier.
"Everyone would smile at you as you walked by," Miller said. "[It was] a totally different environment."
This would begin Miller's love affair with Murray State University. Upon receiving his master's degree from Murray State in 1967, Miller took on the role of graduate assistant and loved it. It wasn't long until Murray State noticed his expertise and offered him a job as an instructor for two years. Miller realized then that if he intended to stay in teaching, he needed to obtain his doctorate. He set off to the University of Arkansas, where he graduated in 1973, before returning to his beloved alma mater to begin his teaching career in Murray.
Miller remained a professor of accounting for 47 years, becoming one of the most well-known faces on campus and in the community. He also held significant roles in addition to being a professor, such as serving as the executive director of the Murray State University Foundation for 23 years, planned giving coordinator for five years and chairman for the department of accounting for 17 years as well as serving two separate terms as interim president of Murray State University.
Miller prides himself in holding true to his belief that at the beginning of success is building positive relationships. It was always his priority to see Murray State succeed, and he believed that it started with the students.
"Each semester you get a new group of students that are held captive in a classroom," Miller joked. "I knew when I was a student what kind of professor I wanted to have, so I wanted to be that teacher. I thought how important it was to have a good relationship with students to have them do the best they can to be a success in life. It really worked out."
For Miller, it absolutely did. He was awarded with the first Outstanding Teacher Recognition Award from the College of Business in 1982, selected as Distinguished Professor by the Alumni Association in 1991, honored with the Regents Award for Teaching Excellence in 2008 and selected as the Outstanding Alumnus from the department of accounting in 2011.  The bonds that Miller formed with his students led them to do great things and leave a mark on Murray State. Despite all of the awards and achievements, however, Miller said he never had any of that in mind while he was teaching.
"What I enjoyed most was teaching," Miller said. "I just did my job, and I didn't expect any awards or anything. I just wanted to be the best teacher I could be. That's what I'm most proud of."
Miller's service did not go unnoticed by his alumni brothers of Sigma Chi either. He was recognized in 2014 by Sigma Chi International as a Significant Sig, the highest award bestowed by the fraternity to recognize a Sigma Chi alumnus who has achieved distinction in his chosen career. Miller is only the fourth alumnus of Murray State's Espilon Tau chapter to earn the award, following the Honorable Bill Cunningham of the Kentucky Supreme Court, journalist Gabe Hobbs and Arthur J. Bauernfeind, past chairman of the Murray State Foundation Board of Trustees.
Miller also went the extra mile to keep up with the trends of his expertise. While teaching, he wanted to receive his CPA to become a Certified Public Accountant. Upon being awarded this he helped establish a firm in Murray while he was teaching and serving as the executive director of the Murray State University Foundation. After retiring in 2014, Murray State's accounting department's suite of offices was named the Dr. Tim Miller Center for Accounting Education.
"Looking back on everything I did, I did it to be a better teacher," Miller said. "Teaching was everything to me."
Due to all of his administrative experience and knowledge of the University, the Board of Regents appointed Miller to serve as interim president of Murray State — once in 2006 and again during the 2013–14 academic year. During his second term, Miller battled with whether it ultimately was the best decision. Teaching was his passion and if he agreed to the presidency he would be unable to teach for his last year. It was no surprise that Miller again put the needs of the University and the students above his own and accepted the position.
During his second term as interim president, he felt it was very important to begin taking steps to influence the University's enrollment. Miller visited all the schools in Murray State's 18-county region, meeting with the superintendents and principals of the high schools to share how great of a choice Murray State would be for students to further their education. This was also a time that the legislature was meeting in Frankfort, which resulted in many trips to the state's capitol to convince the legislature that Murray State needed funding. Miller's campaign was successful, awarding Murray State with the most funding for capital projects the University has ever received, which allowed for the construction of the Engineering and Physics Building, Franklin Residential College and the Breathitt Veterinary Center in Hopkinsville. Miller didn't let the short term of his presidency stop him from accomplishing important things and, ultimately, his accomplishments led the Board of Regents to officially name him Murray State's 12th university president.
One of Miller's projects while president included honoring the retired faculty and staff of Murray State. He and his wife Patsy hosted lunches at Oakhurst to make sure all the retirees' hard work did not go unrecognized.
"We started with each residential college as well as food services and facilities and management. All of those who had retired came back. It was a way to say thank you for all that you've done," Miller said.
He credits much of his success over the years to the support of his wife, Patsy, who he fell in love with during his junior year at Murray State. Patsy received her bachelor's degree from the University in elementary education. Miller says one of his greatest accomplishments is meeting and marrying the love of his life. Miller and Patsy have enjoyed 51 years of marriage.
"She has an outstanding personality and everyone who meets her, loves her," Miller said.
Now, being awarded yet another award, Miller was surprised in receiving it but said he could not be more excited.
"Seventeen of the people that served on the Foundation Board when I was a director have received this award. Five of my former accounting students have won [it]," Miller said. "So I'm in great company."
The Murray State community has seen firsthand Miller's impact on students and faculty. Miller never hesitated to lead with humility and always had his students' best interests in mind. The Murray State Alumni Association is thankful for all that he has accomplished to make Murray State a better place — one where Miller has definitely left a legacy behind.
Miller will be honored at the Distinguished Alumni Awards Dinner on April 27 at 6 p.m. in the CFSB Center's Murray Room. During the banquet, he will have the opportunity to speak about his professional experiences and memories of Murray State. The banquet is open to the public and tickets are available for $50 per person at murraystate.edu/distinguishedalumni.