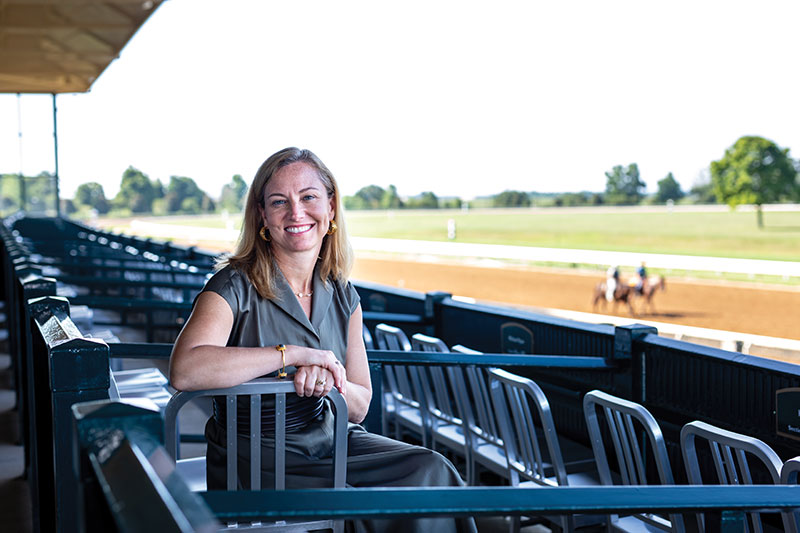 The task of maintaining Keeneland's prestigious legacy in any season is not without its pressures. Add in a pandemic that's caused the track—like so many other businesses—to have a gaping hole in revenues, and the dial is cranked up.
If anyone can do it, though, it's Shannon Bishop Arvin. Effective Sept. 1, she's the president-elect of Keeneland. She'll co-preside with outgoing President/CEO Bill Thomason, who announced his retirement after 10 years at the helm of one of the state's most important cultural and economic institutions.
Arvin, a Lexington native, takes over as president and CEO of the global racing and sales company effective Jan. 1, 2021. She previously was a partner with the law firm of Stoll Keenon Ogden, but you'd be hard pressed to find someone who knows the Thoroughbred business better than she does. She becomes Keeneland's eighth president and the first woman in that position.
"It's an all-hands-on-deck moment, but (we) know we'll come out on the other end," Arvin said of this unique pandemic-challenged leadership change. "I'm definitely a collaborative leader, and we're only going to be as good as our team."
Her leadership style also leans into what Keeneland already is, a mission that hasn't changed for 80-plus years.  
"We have to build on those traditions and innovate. It's essential to move on to attract the next generation and attract new owners and fans," she said.
Arvin is hitting the ground running to keep Keeneland connected with the hearts, minds—and wallets—of its loyal fans, regardless of their equine acumen. 
"There is hope and reason for optimism. We will get through this and probably come out stronger," she said. "There are some silver linings we are learning since the pandemic. We're making great strides in initiatives we'd already undertaken and they're being sped up, like online bidding, digital sales and connecting to people when they can't be here physically."
Though guests weren't able to enjoy races and other events at Keeneland throughout the spring, the backstretch has still been bustling, although in a pandemic-safe manner. Arvin said continuing to care for the track's athletes is critical to success. That includes having sales and races, and assuring buyers, sellers, and trainers that "the leaders here are competent and taking the steps required to deal with the situation." 
"Keeneland and the horse business in general is a huge economic engine for our state, so that's a huge part of it," Arvin said. "And it's such a blessing to work for a company whose mission is to do the right thing. That's our goal in all that we look at, what's the right thing to do. It's not just about the bottom line; we have to do it well."
Dan Metzger, president of the Thoroughbred Owners and Breeders Association (TOBA) is thrilled to see Arvin in the driver's seat at Keeneland. 
"We've been very fortunate at TOBA to have Shannon as our outside counsel for over 15 years," he said. "She is extremely well respected throughout our sport and has a very thoughtful and measured approach on addressing the complex and challenging issues facing our industry." 
As an attorney, Arvin represented numerous industry constituents, including owners, breeders, racetracks and national organizations. 
"That breadth of knowledge and experience makes her the ideal person to lead Keeneland," Metzger said, adding that she also has deep family roots in the Thoroughbred industry. 
"Keeneland has been an integral part of the Lexington community and a leader on a national and international level," he said. "Shannon is well positioned because of her family ties, relationships and understanding of different stakeholder perspectives to enhance the traditions established over the years and continues to be an advocate for the improvement and growth of Thoroughbred racing and breeding."
Metzger noted that some of her key attributes are listening and collaboration.
"She's a great listener and will make decisions based on the information and perspective from others, along with her experience and business acumen," he said.
It's not hard to see why her appointment was a unanimous decision by the Keeneland Trustees. 
"Shannon's leadership, professionalism, the respect she has earned within the horse industry, her intimate knowledge of Keeneland's core businesses and her vision for Keeneland's future made her the clear choice to become the next president," said Keeneland Trustee Seth Hancock.
"[Working in the equine industry] definitely starts and ends with horses," Arvin said. "But it's also the relationships. This is such a relationship business, and this sport draws interesting people. In one day you can be on the phone with Ireland, Dubai, Saudi Arabia, Australia. It's such an international business. And my friends have been my clients, and my clients have been my friends. Those relationships definitely led me to Keeneland and this role."
Her history working at Keeneland began when she was in high school, working in the sales office. 
"I helped file catalogues and cards, and worked the switchboard during the summer and during sales," she said. "In the kitchen, I always remember while working here, there were graham crackers and peanut butter as a snack. They still have that in the kitchen."
She's gained quite a few rungs on the ladder, and now says she and Thomason aim to steer Keeneland back to its high level of achievement "delicately" once the pandemic allows.
Thomason navigated Keeneland through a decade of substantial growth in the Thoroughbred industry. Keeneland achieved record Spring and Fall Meet attendance and handle, highlighted by the more than $25 million wagered on last year's Toyota Blue Grass Day and the more than $160 million wagered during the 2019 Fall Meet. The Shadwell Turf Mile (G1) and Toyota Blue Grass (G2) were elevated to $1 million stakes. On the sales front, Keeneland further expanded its global outreach, resulting in gross sales of more than $627 million last year; launched the Keeneland Digital Sales Ring, the first online sales auction in North America; and undertook a multimillion-dollar renovation of the barn area to better showcase offerings for Keeneland auctions.
Keeneland successfully hosted the 2015 Breeders' Cup, which generated a nearly $70 million economic impact for Lexington, and Thomason negotiated the event's return to Lexington in 2020. During this period, Keeneland also was named among the best places to work by the Kentucky Chamber of Commerce.
Under Thomason's leadership, Keeneland also was a founding member of the Thoroughbred Safety Coalition. He was integral in the hiring of an equine safety director at Keeneland and championed racetrack surfaces research and testing, racing and sales medication reforms and industry initiatives to promote the betterment of the sport. Arvin served as counsel to a number of the members of the coalition and said she feels the sport has made excellent progress in enhancing safety.
Through her work at SKO, where she practiced since 2002 and gained international respect for her work in the horse industry, Arvin has represented Thoroughbred owners and prominent industry organizations in Kentucky and around the world, among them Keeneland, Breeders' Cup Ltd., Thoroughbred Owners and Breeders Association and the National Thoroughbred Racing Association. She also serves on the University of Kentucky's Gluck Equine Research Foundation Board of Directors, is a member of The Jockey Club, secretary of Horse Country, and is past president of the Thoroughbred Club of America. She graduated from the University of North Carolina, Chapel Hill, with a bachelor's in political science, international studies, with high honors. She graduated from the University of Kentucky College of Law in 2002. 
Arvin and her husband, Will, have two daughters, Bishop and McCutchen. She enjoys teaching them about horses and this spring enjoyed watching a foal being born with them.
From birth to training, racing, breeding, retirement—it always comes back to the horse for Arvin.
"We are committed to the community and to the horsemen and making it the best possible for all of our athletes, human or equine," she said. "And for our Central Kentucky community, we'll continue to devote time and attention and resources to them and continue to promote the traditions of Keeneland."
And she said working "responsibly" with public health officials, guests, trainers, consignors, employees, buyers, race fans and athletes will help Keeneland work back to where it was. 
"There is not a place in the world like Keeneland," Arvin said. "I have a deep love and passion for Keeneland and it is a tremendous honor to lead this organization and work alongside this amazing team."  ■
---
Abby Laub is a correspondent for The Lane Report. She can be reached at [email protected].