Businesses large and small have depended heavily on the expertise of their financial partners during the past year as the world battled the economic consequences of the COVID-19 pandemic. Bank clients have also come to rely on the automated options and technology that banks have invested so much to implement.
Customers depend on fundamental banking services now just as much as they did before, but the method in which banks provide these services has changed, said Michael Beckwith, Kentucky division president of German American Bank.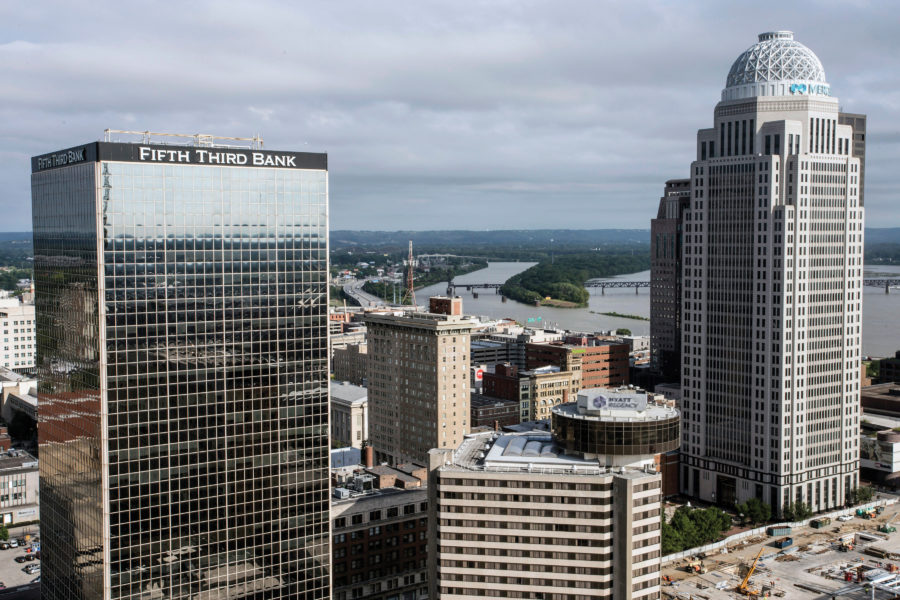 "How customers choose to do their banking requires institutions to be set up to complete the entire transaction in that medium," Beckwith said. "So, digitizing how each customer can complete a transaction, connect with their banker and allow for movement of money are the top trends."
Technology has made banking incredibly accessible, which was crucial during the height of COVID-19. Meeting clients' needs no matter the circumstances has always been a priority for Independence Bank, said Louis R. Straub II, Louisville market president. The pandemic did not change that, he said.
"The use of technology during the pandemic gave our customers the ability to facilitate their banking needs at a time when we were forced to be apart. As we move forward, we will continue to utilize the latest technology for fast accurate delivery of service and safety, but we will never sacrifice the importance of a personal meeting, conversation or human interaction," Straub said.
The pandemic was a "live disaster-recovery exercise moving transactions to electronic and digital delivery," said John Key, CEO of Commonwealth Bank & Trust Co., which has 2.65% of the Louisville metropolitan statistical area market (MSA) share. "Systems performed nicely and customers remained very well served during the peak of the pandemic and resulting branch access limitations."
German American saw a 37% increase in online and mobile banking logins and a 14% increase in website visitors in 2020, Beckwith said.
"German American Bank was able to leverage its various digital servicing offerings we already had in place, such as video conferencing, remote deposit, electronic signature, mobile banking, online banking and remote deposit services," he said.
Reliance on banking technology has been growing for years and that is likely to continue, said Dan Mason, president of Traditional Bank.
"While the branch continues to serve as the primary driver for new relationship acquisition, digital channels are expected to chip away at in-person account opening and ongoing account servicing. This expectation is heightened when considering add-on accounts for current customers," Mason said. "Customers will return to the branch for a variety of needs, which are best met by speaking in person with their banker. However, we anticipate a shift in the way that customers utilize the banking centers, with expected decreases in branch transaction volume as more customers choose to utilize digital options."
Beckwith agreed, saying the industry has seen a reduction in the number of in-person transactions over the past several years. The pandemic accelerated that reduction and "forced many customers to think differently about how they do their banking," he said.
Customer behavior has been permanently altered by a whole new segment of the customer base moving to more automation in banking service, Key said.
"ITMs (interactive teller machines), online banking and digital delivery were very well accepted. It will change how we design both future branches and existing platforms to conform to the changing and evolving behavior of our clients," he said.
Many banks have begun using touchless credit and debit cards.
South Central Bank, which is headquartered in Glasgow and has branch locations in Louisville and Elizabethtown as well as central and western Kentucky, offers online bill pay and transfer, a mobile app and web browser, and mobile deposits and alerts.
Farm Credit Mid-America, a financial services cooperative that serves farmers and rural residents in Indiana, Kentucky, Ohio and Tennessee, also made use of its online banking tools as it assisted its customer-owners throughout the pandemic. It also used on-site drop boxes to allow customers to make payments or drop off loan documents, tax returns and other paperwork.
In March of 2021, Farm Credit Mid-America announced it would pay a record $200 million in cash patronage dividends to eligible customer-owners through its patronage program. The distribution brings the total amount returned to customers over the last five years to $648.5 million.
In addition to its enhanced mobile banking options, Fifth Third Bank launched a new digital banking solution in 2021, called Momentum Banking, that helps customers avoid and manage cash shortfalls, get paid and pay others, and reach savings goals. Headquartered in Cincinnati, Fifth Third has a 9.59% of the market share in the Louisville MSA.
Fifth Third has 27 branches in Louisville and several other branches in the 15-county Louisville MSA. The bank was named to Forbes list of Best Employers for Diversity in 2021.
"We are intentional about creating an inclusive and trusting environment where all ideas are welcomed and where employees feel comfortable and empowered to have discussions about diversity and inclusion," said Stephanie Smith, the bank's chief inclusion and diversity officer. "Accelerating racial equality, equity and inclusion is one of our strategic initiatives."
Fifth Third recently named Kimberly Halbauer its first female president of the Kentucky region and six Black, woman-owned Louisville businesses recently were awarded grants from the Fifth Third Foundation's Innovation Meets Main Street: Boosting Black, Woman-owned Businesses program, which was announced in September 2020.
Helping companies with PPP loans
Fifth Third Bank assisted clients through several rounds of the Small Business Administration's Paycheck Protection Program (PPP), which offered forgivable loans to companies who used the funds to remain open despite COVID-19. In 2020, the bank funded PPP loans nationwide totaling more than $5.4 billion to more than 40,000 business customers. These loans helped to support 600,000 jobs, with 95% of those jobs being at companies with 50 or fewer employees.
German American Bank has originated more than $500 million to over 5,400 customers since the beginning of the rollout of the program, Beckwith said. The bank is now focused on helping customers apply for loan forgiveness, not new loan originations, he said.
Traditional Bank, which originated over 2,200 PPP loans in two rounds, is also staying busy processing forgiveness loans for both rounds, said Mason.
South Central Bank has issued more than 3,000 PPP loans totaling $160 million, according to its website. Commonwealth Bank & Trust generated nearly $70 million in PPP loans in two rounds, the bank's CEO said.
Engrained in the communities they serve
The Greater Louisville region is served by more than 40 different financial institutions. Some of the banks headquartered in the region include: Republic Bank & Trust, Commonwealth Bank & Trust, Stock Yards Bank & Trust, River City Bank, Eclipse Bank, Limestone Bank, Wilson & Muir Bank & Trust Co., and Citizens Union Bank of Shelbyville.
Many financial institutions are heavily invested in the communities they serve. As Straub of Independence Bank says, "At the heart of who we are is community." Banks also work together – and with other companies in the region – to help fund community projects, said Key of Commonwealth Bank & Trust.
Traditional Bank increased its community giving in specific areas hit hard by the pandemic. It donated $44,000 to public schools, senior citizens centers and local agencies working to provide childcare and prevent homelessness, including the YMCA, Salvation Army, Community Action Council and others. It also donated over $30,000 to food banks, Mason said.
"Community banks are engrained in the backbone of every community they serve, providing help in dollars, hours and time," said Beckwith of German American Bank.
BANKS
Bedford Bank
Central Bank
Citizens Deposit Bank
Citizens Union Bank of Shelbyville
Commonwealth Bank & Trust Co.
Eclipse Bank
FirstBank
Fifth Third Bank
First Financial Bank
First Harrison Bank
First Savings Bank
Forcht Bank
German American Bank
Independence Bank
JPMorgan Chase Bank
Liberty Bank
Limestone Bank
Lincoln National Bank
Magnolia Bank
Mid-Southern Savings Bank
The New Washington State Bank
Old National Bank
Peoples Bank
PNC Bank
Regions Bank
Republic Bank & Trust
River City Bank
South Central Bank
Stock Yards Bank & Trust
Town & Country Bank and Trust
Truist (formerly BB&T)
U.S. Bank
Wilson & Muir Bank & Trust Co.
WesBanco
ACCOUNTING FIRMS
Baldwin CPAs
BKD
Blue & Co.
Crowe
Dean Dorton
Deloitte
Deming Malone Livesay & Ostroff
Ernst & Young
Harding Shymanski & Co.
Jones Nale & Mattingly
KPMG
Louis T. Roth & Co.
Mather & Co. CPAs
Monroe Shine CPAs
MCM CPAs & Advisors
PricewaterhouseCoopers
Rodefer Moss & Co.
Strothman & Co.
Welenken CPAs