Kentucky providers pouring millions into imaging for better diagnoses and more precise treatment with better outcomes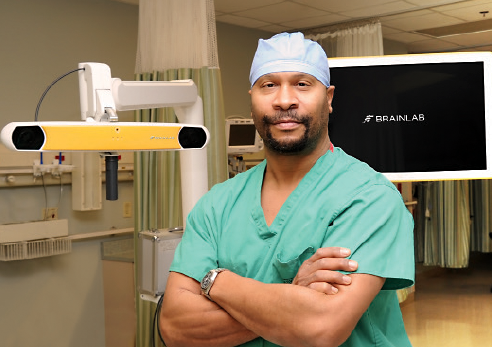 By Josh Shepherd
Kentucky's major healthcare systems and hospitals are investing hundreds of millions of dollars in advanced imaging technology to achieve earlier diagnoses, make treatments more precise and less invasive, and improve outcomes for patients.
As they've undertaken various new construction projects over the past five years, Kentucky's health systems have invested to keep pace with technology in highly sophisticated 3D medical imaging along with hybrid operating suites for cardiovascular and neurosurgical procedures.
For example, as part of the continuing battle against cancer, 3D breast imaging called tomosynthesis is taking mammography to a new level of clarity for earlier detection of smaller lesions.
For oncological treatment, medical manufacturers have developed specialized machines that combine high-resolution computed tomography, or CT-scans, with external radiation therapy to more precisely attack malignant tumors with less damage to healthy tissues, meaning treatments cause fewer side effects and complications.

"This is where we are going," declared Pat Alagia, M.D., KentuckyOne Health's chief medical officer. "We are investing millions in equipment and high-tech surgical suites, but we're doing it because it's consistent with our strategy of providing the best level of care possible to our patients."
Through The Lane Report's interviews with physicians, administrators and trustees about the tens of millions being spent on medical technology, several common themes surface:
• It allows providers to make real-time diagnoses.
• It allows minimally invasive treatments that reduce damage to healthy tissues.
• It speeds recovery times, reduces incidence of infection and complications, reduces inpatient stays and promotes better outcomes.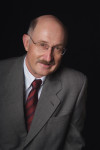 Yet machines, however advanced their science, Alagia said, are merely enhancements and continue to rely on the skills of physicians and other providers. Alex Poulos, M.D., a practicing radiologist for 38 years with Pikeville Medical Center and a member of that hospital's board of trustees, agrees.
And while the evolution of healthcare technology over the course of four decades is nothing less than astonishing, Poulos said, so, too, is the price tag for that equipment.
The price of medical technology is the price of providing care, according to one common view. But such investments, Alagia added, are also emblematic of the commitment Kentucky's healthcare systems have toward providing patients the best possible care from the best medical professionals using the state-of-the-art that's available.
Imaging: 320-slice CT scans and Tesla MRI
Like many Kentucky hospitals, Pikeville Medical has invested in a broad range of new technology across medical specialties, Poulos said, but in his opinion the most significant advances in the healthcare industry are within the field of medical imaging.
One could argue convincingly, he said, that advances in imaging technology are at the core of nearly every recent capital equipment purchase in tertiary care – highly specialized treatment in advanced facilities, where patients are referred by primary and secondary providers. PMC has invested more than $10 million in the past five years in CT scanning and Siemens Tesla MRI devices, Poulos estimates.
The only investment that might outpace Pikeville's imaging spending in the past few years are costs for expanding and renovating the hospital itself, he said. However, these imaging device expenditures enable PCM to continue to improve the availability of advanced healthcare procedures for residents of Eastern Kentucky, West Virginia and western Virginia.
Among the most impressive of its major purchases are two 320-slice CT scanner systems, which are 4,400-pound machines that generate high-resolution internal images resolving down to 1.5 millimeters in size – less than one-sixteenth of an inch.
"This is the current standard for CT imaging in tertiary care," Poulos said.
One of the systems was installed in Pikeville's Emergency Room for rapid response to trauma cases, and the other serves the hospital's regular patient population. Meanwhile, the high-resolution CT scanners have patient tables designed to handle a weight of over 660 pounds.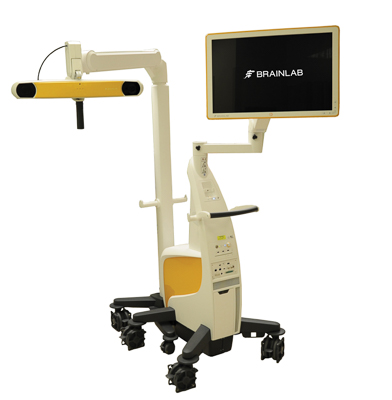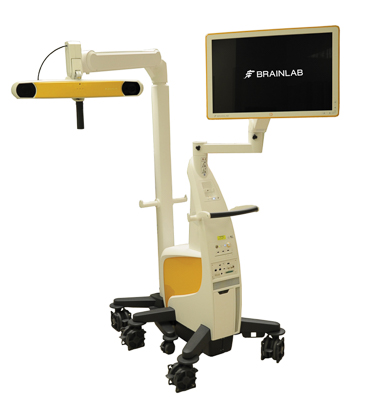 "The older CT scanner, which is still in use, could only support persons of up to 400 pounds," Poulos said. "We needed machines that could handle the increasing girth of a segment our population."
The gantry or bore of the machine is 78 centimeters, about 31 inches, which allows a patient's whole body to be scanned "in one breath-hold."
"In most cases, a single scan is all we need. The information is read by the radiologist and the images shared with the appropriate physician, depending on the patient's needs," Poulos said. "If we have an elderly patient or someone severely injured in a motor vehicle accident, for example, it is vital that we get that person scanned as soon as possible so that the information is read by the radiologist and information forwarded to a surgeon or ER physician – whatever the emergency calls for."
The machines can be used for vascular imaging, cardiac imaging and many other applications.
Advanced imaging enables providers to map a patient's internal anatomy in three dimensions, which is impressive in itself. But it reduces a patient's exposure to X-rays while doing so, which is a more welcome aspect of the investment, Poulos said.
The complexity of 3D imaging is pushing diagnostic medicine in many profound ways. In mammography, 3D imaging has resulted in better breast cancer detection and prevention.
Tomosynthesis: 3D mammography technology
Norton Healthcare is among the latest major Kentucky health systems to invest in the 3D mammography technology known as tomosynthesis.
Tomosynthesis machinery costs less than some other current medical tech but is still a big dollar investment – hundreds of thousands rather than millions. The advanced breast imaging service Norton installed at Norton Women's and Kosair Children's Hospital in St. Matthews as well as at Norton Hospital Pavilion was "valued at more than $400,000," according to a news release.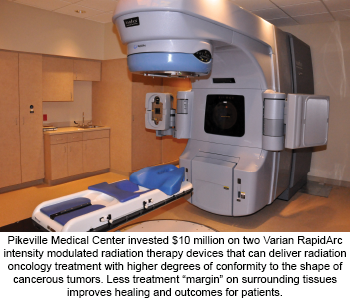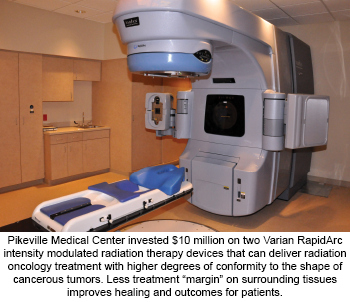 Tomosynthesis imaging technology has been implemented also at UK HealthCare's Markey Cancer Center in Lexington, the Baptist Health system locations, the James Graham Brown Cancer Center in Louisville that is part of KentuckyOne Health, and numerous women's health and specialized imaging clincs throughout the commonwealth.
Approved by the federal Food and Drug Administration in 2011, tomosynthesis "allows a more robust imaging of the breast tissue as opposed to the traditional 2D mammography," said Dr. An Church, a Norton Healthcare radiologist with fellowship training in breast imaging.
Both technologies use X-rays to image the breast and require compression of the breast for imaging, Church said, but while mammography acquires images from two angles, tomosynthesis acquires images from multiple angles.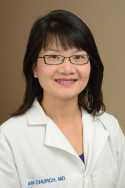 "The difference allows the radiologist to 'look through' the breast, similar to a CT scan of the body," she said. "Traditional 2D mammography continues to be a proven method for the early detection of breast cancer. However, both national and international studies have shown that tomosynthesis increases the detection of breast cancer and decreases recall rates over 2D mammography alone."
Doctors sometimes must ask a woman to return for additional imaging – a recall – after 2D mammogram screening, but further diagnostic exams determine the suspicious site to merely be overlapping tissue rather than a lesion. Tomosynthesis decreases such incidences, Church said, averting the physically stressful patient anxiety that usually accompanies additional imaging.
"We believe tomosynthesis has added value for the patient, and we are excited to offer this technology," Church said.
Radiation oncology targeting is improving
The word "precise" is becoming inadequate to describe the highly technological world of radiation oncology, which focuses beams of high energy onto cancers to destroy malignancies. Specialists in this field talk about the "conformality" of treatment to attack and destroy irregularly shaped malignant tumors, which often are in the body's most vital and sensitive organs and tissues.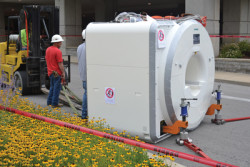 Just as neurosurgeons strive to limit the invasiveness of their procedures to minimize damage to healthy brain tissues during their procedures, radiation oncologists rely on specialized equipment that uses advanced imaging to define and target the erratic three-dimensional shapes of tumors. That information enables physicians to exercise greater control over the intensity and shape of the radiation beam necessary to reduce and, hopefully, destroy all traces of the tumor.

Radiation oncologists Ruth Lavigne, M.D., co-director of the Leonard Lawson Cancer Center in Pikeville, and Ryan Faught, M.D, medical director of radiation oncology at Owensboro Health, frequently mention "conformity" when talking about interventional procedures to eradicate tumors from a patient. New technology systems they use are more effective than ever in cancer treatment, and accomplish this with fewer side effects and complications because healthy tissues receive less of the collateral damage traditionally associated with radiation.
Less damage to healthy tissues correlates to faster recovery times for their patients.
Lavigne discussed the two RapidArc Linear Accelerators that she and her husband, Brad Collett, use in external-beam radiation therapy. The machines, purchased for an estimated $10 million at Pikeville Medical, are bringing state-of-the-art cancer care to Eastern Kentucky, Lavigne said.

External-beam therapy has been a mainstay of cancer treatment for decades, but Lavigne said the technology has evolved to an astonishing level.
"When I started in this field, the state of the technology was such that we would add roughly two centimeters radially around a tumor (to the target treatment area) that would likely be affected by radiation," Lavigne said. "That (added "margin") was healthy tissue, and it was one of the reasons this therapy made people sick. We were getting at the cancer but had to be accepting of this margin. But not anymore."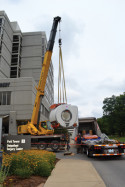 Using original 3D CT scan images fused with a mini-CT scan of the affected area for guidance, Lavigne said, RapidArc machines deliver an intensity-modulated beam therapy that alters its shape to conform to the tumor.
"The machine allows for precise adjustments in relation to the tumor – at the sub-millimeter level," Lavigne said. "It is also set up to do the more elegant high-dose, non-invasive radiation techniques that we call 'sabre' or stereotactic ablation."
Such equipment today is standard for tertiary-care hospitals across Kentucky, including the oncology wing of Owensboro Health where Faught practices, but he prefers to talk about the radiation therapy success he and colleagues have had treating breast cancer patients with the BioZorb Tissue Marker.
Owensboro Health is the first Kentucky hospital to use this surgical device, Faught said. In terms similar to those expressed by Lavigne, he stresses the importance of exactness in treating malignant masses. He is excited about how the BioZorb device can be implanted during a breast lumpectomy in the area where a tumor is removed.
It is made of a bioabsorbable material and titanium clips that hold the device then continue to mark the exact site of the original tumor, which allows Faught to precisely target follow-up radiation treatments to this location.
"The site of the original tumor is the most likely place where it could start again," he said. "The BioZorb allows me to perform radiation treatments at that specific site. Research has shown that more-targeted treatments stand a better chance of eliminating the whole tumor."
Overall radiation exposure areas are reduced, and patients benefit from a better standard of recovery, additional healthy tissue can flourish and create a fuller recovery from the cancer treatments.
Better precision, better brain surgery, better healthcare

Duane Densler, M.D., chief of neurosurgery at Pikeville Medical, describes Brainlab equipment as the standard of neurosurgical care. He trained in the use of the system while completing his neurosurgical residency at the University of Louisville and helped bring the technology to Pikeville when he began practicing seven years ago.
The technology manufactured in Germany has multiple capabilities and applications, Densler said, but its primary function is to help neurosurgical teams navigate the most direct route to a developing tumor or an aneurysm repair.
"In the operating room, Brainlab provides us data to navigate the least-invasive path around the brain to get to a tumor, which we can then resect or remove," he said. "It allows us to make smaller incisions and smaller craniotomies."
The result, in addition to the removal of a life-threatening tumor, is shortened time in the operating room, reduced hospital stays and quicker recovery times, Densler said.
PMC neurosurgery has a Brainlab add-on that allows more precise spine surgery, permitting surgeons to use real-time imaging rather than referencing previously made scans.
"You get an image of the spine while you are working on it, including the precise position of surgical tools," Densler said.
Densler and Norman Mayer, M.D. have been aggressive in building the neurosurgery department in Pikeville. An initial Brainlab System investment estimated at $300,000 was upgraded for an additional $300,000, Densler said, and that doesn't count the more important investment in human capital.

The investment has been worth every dime, he said.
In Bowling Green, the neurosurgical department at The Medical Center has been using the Medtronic Stealth Navigation System for several years. When the most recent software upgrades in October 2014 are included, The Medical Center has invested over $1 million in state-of-the-art neurosurgical technology for southcentral Kentucky.
Narendra Nathoo, M.D., a staff neurosurgeon, said the stealth navigation system uses a powerful wide-angle camera to assist the surgeon in real-time brain and spine surgery. It also makes use of enhanced tracking technology with both wired and wireless instruments.
As with the BrainLab system, Nathoo said the department purchased the system to facilitate less invasive and more precise surgical procedures using "keyhole" incisions to reduce impact on healthy tissues.
"Also acquired," he said, "was Fluro Navigation, a special adapter to an X-ray machine, so that surgeons can fixate the spine through smaller skin incisions" that require only a few sutures to close.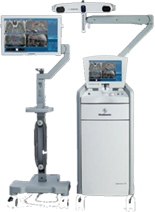 Stealth Navigation provides high-resolution images for image-guided surgery, and as with other forms of surgeries, CT and MRI imaging are reducing the invasiveness of surgeries, even in the most complex and delicate of procedures, Nathoo said. The results are consistently better outcomes and significantly improved patient recovery.
At KentuckyOne Health, one of the single largest capital equipment investments that 200-location, 15,000-employee system has made is into a NeuroCT system.
According to Alagia, the neuroCT system allows neurosurgeons to do evaluations in real time "without having to close the patient and then do a post-operative assessment about the location of tumor margins and whether the placement of interoperative devices were done right."
There is a big advantage, he said, to using CT imaging to make adjustments and mid-course corrections during one procedure so that a patient does not have to undergo the additional trauma of follow-up procedures.
Hybrid ORs allow sophisticated team surgery
Cardiovascular surgery is another realm merging real-time imaging with minimally invasive procedures.
KentuckyOne Health is known for its pioneering history in Kentucky cardiac care, Alagia said, and recently the healthcare system has invested to develop two hybrid operating rooms in its flagship hospitals: Jewish Hospital with support from nearby University of Louisville Hospital, and at Saint Joseph Hospital in Lexington.
Nearly double the size of an average OR, the cost of one hybrid operating room is about $5 million, Alagia estimates, "if you're going to do it right."
Hybrid operating rooms combine a full traditional operating room with a full cath-lab and high-end imaging systems that allow for ultrasound as well as 2D and 3D imaging to support endovascular procedures.
"These are areas of real distinction for us because it allows us to perform highly complex treatments for vascular disease using minimally invasive techniques," he said.
"The medical team operates in a coordinated way to perform highly sophisticated types of cardiovascular procedures."
For example, he said, the new hybrid ORs are good for use in performing Transcatheter Aortic Valve Replacements (TAVR) without having to open up a patient's chest.
"These types of ORs are not for every type of surgical procedure," Alagia said. "But for certain select patients who have vulnerabilities that put them at risk, minimally invasive surgeries that these ORs make possible decrease mortality, reduce infection and have fewer complications. I get excited about their potential down the road."
The new medical technology in this article is just a fraction of the resources available at Kentucky's hospitals. For example, millions of dollars are being invested in electrophysiology laboratories in Baptist Health Paducah and in KentuckyOne Health.
But it is clear that significant investments are being made to ensure that Kentucky patients have ready access to the state of the art in healthcare technology. ■
Josh Shepherd is a correspondent for The Lane Report.  He can be reached at [email protected].