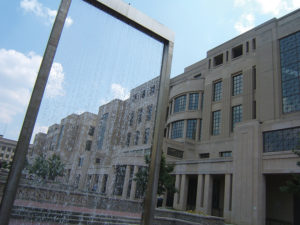 Lexington attorney Gregg Thornton and other members of Ward, Hocker & Thornton have had to wrestle with hundreds of tough questions since the coronavirus pandemic began to emerge in February and March.
But throughout the worldwide health crisis, the only certainty was perpetual change for law firms in Central Kentucky, where responding to the virus overshadowed far more sophisticated transactions that lawyers in the region handle every day of the week.
"The one thing that constantly we get questions about is how it's a moving target. The standards change on almost a daily basis for some businesses so that, for instance, a business has a standard one day and it may not be the same the next (day)," said Thornton, referring to rules, regulations and guidelines that sometimes seemed to be chiseled in stone for all of about 20 minutes.
One example he mentioned focused on gatherings of people and whether as many as 10 people could get together for a backyard birthday party or whether 10 people could cluster together for drinks at a restaurant or bar without violating regulations.
"At the very beginning, all we did for four weeks was COVID questions," said Thornton, managing partner of the law firm that has 34 lawyers divided between offices in Lexington and Louisville.
Although they may be rivals both inside and outside the courtrooms, attorneys in Lexington and Fayette County shared plenty of information during the pandemic through online conferences, Thornton said.
For a couple of months, attorneys from about 15 law firms participated in virtual forums about some of the issues that were emerging because of the pandemic, including how they would reopen their offices and how to work from home, said Dana Arnold, executive director of the Fayette County Bar Association, which has about 1,000 members.
Members of the association have told her that in the wake of the pandemic they're bracing for a flood of business related to evictions, unemployment and bankruptcy, Arnold said.
One broad category of inquiries directed to Ward, Hocker & Thornton focused on insurance companies and whether business interruption coverage would kick in once an enterprise closed because of the coronavirus.
"We won't see the impact of COVID for six months to a year or longer," said Thornton, adding that his firm had not yet heard about lawsuits filed by people who claim they contracted the virus at, for example, a specific business location.
"We haven't seen those type of lawsuits filed yet … I think those are going to be very difficult to prove (with) the presumption that they caught it at one place versus the other place. It's going to be very hard to prove…unless there's some sort of (contact) tracing," Thornton said.
Stephen G. Amato, a member of the McBrayer law office in Lexington, said a relatively obscure clause that's spelled out in many contracts is beginning to get plenty of attention because of the coronavirus.
"We're seeing a relatively standard contract provision called 'force majeure' come into play quite a bit in a way that most folks never anticipated. This is a part of most contracts that governs the responsibilities of the parties should there be some sort of unforeseen intervening event out of the control of either party. It's not unheard of, but it's rare that we've seen it arise with such a frequency …," Amato said.
"The biggest concerns our clients face lately have to do with returning to business as usual and mitigating the repercussions if they can't," said Cindy L. Effinger, another member of the McBrayer law firm. "We're seeing a huge spike in issues related to COVID-19, such as the complicated web of regulations surrounding employee confidentiality and medical inquiries in the workplace, the circumstances surrounding paid sick leave under the FFCRA (Families First Coronavirus Relief Act), impending child care issues related to virtual schooling, and new safety rules that must be implemented and enforced as a result of the pandemic."
Clients have been seeking advice on similar issues at the Lexington office of Dentons Bingham Greenebaum.
"COVID-19 has moved our practice into a new dynamic. We understand that there will be no 'normal' for quite some time. Change is accelerating and we are adapting to a constant state of change," said P. Branden Gross, managing partner of the Lexington office. "Our clients are facing an incredible range of challenges due to the outbreak of COVID-19. They are seeking our guidance in identifying and securing funding to maintain operations, understanding the various relief packages Congress has implemented and how those impact their business and employees, the implications of local 'stay-at-home' orders … and a host of other issues."
Dentons Bingham Greenbaum was formed in January 2020 when regional law firm Bingham Greenebaum Doll was acquired by Dentons, a huge firm with locations worldwide. The firm has a substantial presence in Lexington, Louisville and Northern Kentucky, where it has its metro-market office in Cincinnati, as well as offices in Indianapolis, Evansville and Jasper, Ind.
In terms of altering the competitive landscape for legal services, the Dentons-Bingham agreement has plenty of potential. But the presence of the mega-firm didn't discourage West Virginia attorneys from opening an office in Lexington in July. Flaherty Sensabaugh Bonasso, which describes itself as West Virginia's largest litigation firm, is venturing outside its home state for the first time with its central Kentucky office.
Across the state and the nation, COVID-19 has changed how firms practice. Thornton, Gross and attorneys from the McBrayer law office all commented about how firms have employed more technology to keep staff members and their clients safe and minimize person-to-person interactions.
Because one of its clients needed an unusually high level of security to protect financial data, Thornton said his firm was immersed in an extensive upgrade of its in-house technology early this year and purchased new laptops that were vitally important when most staff members were told to use those laptops at home.
"So many of our processes have moved to remote technology such as videoconferencing. We've been in court hearings via videoconference, held depositions remotely, conducted board meetings remotely and worked with clients to sign and execute documents through videoconference technology," said Luke Morgan, a member of the McBrayer firm. "We are using videoconferencing for some things as a stopgap until we can meet in person again, but I expect we will continue to use videoconferencing going forward for a lot of meetings because it is a great time saver."
Dentons Bingham Greenebaum attorneys have attended Zoom, Teams, Webex and other videoconferencing meetings for years now, Gross said, but the use of such software increased during the pandemic.
"As for changing the profession as a whole, I would imagine that the rare large corporate transactions that were in person a year ago would almost certainly be digital now and perhaps will remain that way going forward," he said.
At McBrayer, Managing Member James H. Frazier III said the firm "… put a high priority on keeping our staff, attorneys and clients safe, and we've transitioned as best we can to conducting business remotely wherever possible. There are still bumps in the road, but a lot of these changes have made us operate more efficiently, and some of them will be permanent."
Gross and Thornton agreed that some of the work-from-home emergency measures may outlive the coronavirus.
"Many courts closed temporarily and others have shifted to videoconference or teleconference hearings. I believe these will continue well after the pandemic in some general fashion," Gross said.
"I think before COVID-19, everybody was afraid that you really couldn't function and be productive as an attorney without being in the office, and I think we've learned that you can be (productive) without being in the office," Thornton said.