(Editor's note: The March issue of  The Lane Report features our semi-annual list of the Top Women in Business. At lanereport.com, we're shining the spotlight on one of the honorees each day. Day 9: Aubrey Vaughan Travis, executive director of the Rubicon Institute.)
Our occasional feature, Top Women in Business, highlights some of the women in and around Kentucky who are making an impact in business, the professions, politics and economic development. The feature recognizes women in key roles whose work ethic and body of work are making important contributions to commerce—and life—in Kentucky.
Top Women in Business has grown to become one of The Lane Report's most popular features. Over the years, we've profiled nearly 115 women who shatter stereotypes, encourage other businesswomen and help their Kentucky companies reach new heights. The women featured in this issue are no exception. From president of the Kentucky Hospital Association to executive director of the Rubicon Institute, and the founder of Jeptha Creed Distillery to regional president of PNC bank and others, these women are forging their own paths, proving that hard work, perseverance and creativity pay off.
Aubrey Vaughan Travis is executive director of the Rubicon Institute, which pursues policy reforms to end waste on behalf of Rubicon, a digital marketplace for waste and recycling and provider of innovative software-based sustainability solutions to businesses and governments.
Aubrey Vaughan Travis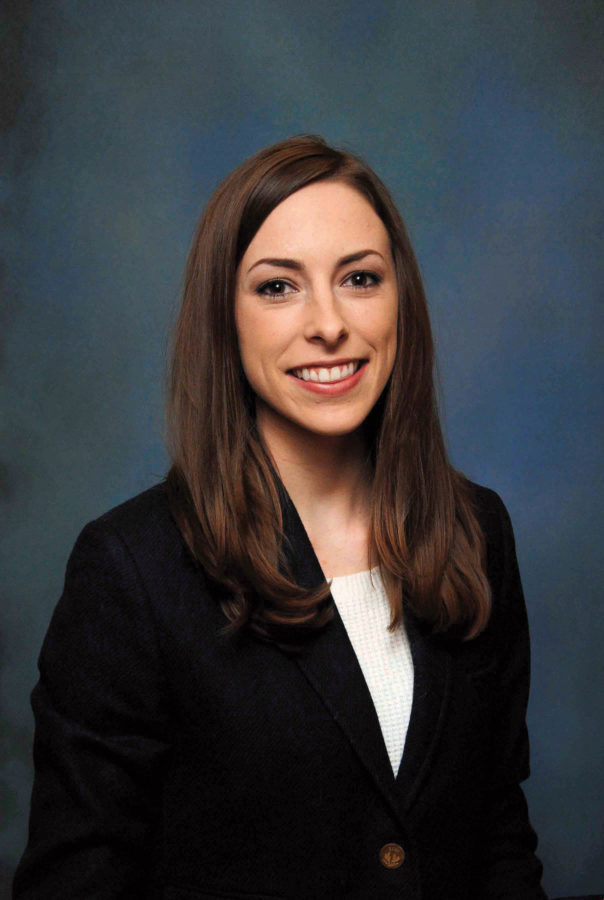 Title/company: Executive director of the Rubicon Institute. Rubicon is a software company that provides smart waste and recycling solutions for businesses and governments worldwide. Rubicon Institute is a brand-new project of the company dedicated to advancing innovative policy solutions that support ending waste. Rubicon's global operations are based in Lexington, the home of its founder and CEO, Nate Morris. 
Previous jobs/positions: General counsel for U.S. Senator Rand Paul; executive advisor for Gov. Matt Bevin in the Public Protection Cabinet; Kentucky state director for Right on Crime; finance committee manager for Rand Paul for President.
Education: B.A. in political science with a minor in studio art from Wake Forest University (2012) and juris doctor from University of Kentucky College of Law (2015).
Top accomplishment: My proudest accomplishment is the president signing into law two pieces of legislation I drafted in Sen. Paul's office.
Volunteer work: I love to volunteer with my church, Christ the King. One of my favorite events is their annual Oktoberfest celebration.
The person(s) who most influenced or mentored me: My parents, so many wonderful teachers and professors, great mentors in all of my jobs—generally, people who pushed me outside my comfort zone to always be creative and curious, and to learn and grow.
My advice to younger women in business: I am a big advocate of the one-page resume and saving the details for your interview or LinkedIn. Also, apply to jobs that you want even if you don't meet all of the qualifications. You can miss out on so much if you don't put yourself out there.
Something I learned during the pandemic: Life skill—I became a mom in 2020. New hobby—I learned how to brew kombucha. 
Something I love doing: I love doing ink and watercolor art, especially for my friends' weddings—their signature drink signs, wedding maps, and envelope calligraphy. I also love trying new restaurants and exploring the outdoors in Kentucky.
When I was a child, I wanted to be: I have always wanted to be involved in politics, and I am so grateful to have worked in campaigns, the federal government, state government and think tanks throughout my career. 
I'm inspired/driven by: Always trying to leave the world better than I found it, even if it just means a small compliment or word of thanks to someone.
Where I do my best thinking: I have always loved working out of coffee shops, especially local ones—the caffeine and constant background noise help keep me going.
In the next five to 10 years, I hope to accomplish: Our goal with the Rubicon Institute is to make Rubicon the premier thought leader in waste policy, beginning with four main issue areas: space waste, waste as a national security issue, rural waste, and urban waste. Each area presents unique challenges in waste reduction, but our objective is to implement innovative policy and thinking to improve sustainable outcomes over the coming years.  
Day 2: Nancy Galvagni of the Kentucky Hospital Association
Day 3: Jeanne Schroer of Catalytic Development Funding Corp.
Day 4: Joyce Nethery of Jeptha Creed
Day 5: Carri Chandler of St. Elizabeth Foundation
Day 6: Nicole Yates of Passport Health Plan
Day 7: Meredith Moody of Buffalo Trace
Click here for more Kentucky business news.